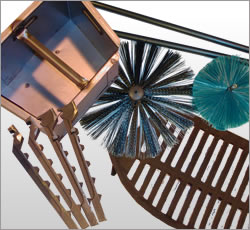 Welcome to the Fire Parts Centre. We have been supplying solid fuel appliances, spares, flue systems and chimneys for over 40 years and have unrivalled experience in all the leading manufacturers' products.
We sell appliances and spares for the following manufacturers but can source parts for many others:
Baxi, Charnwood, Coalbrookdale Sofono, Esse, Grahamston, Hunter, Ouzledale, Parkray,
Queen Star Grant, Rayburn, Tor, Trianco.
The Fire Parts Centre also supply cookers, stoves, roomheaters and fires. Additionally, we carry in stock: Flues, fire cement & sealant, replacement door glass for roomheaters and fire door and fireplace seals.
The Fire Parts Centre deliver throughout the UK so please feel free to contact us on 0141 427 5353, e-mail us at mail@fire-parts.co.uk or fill out our Enquiry Form.